What is an MDM?
Mobile Device Management is any software that allows IT to automate, control, and secure administrative policies on laptops, smartphones, tablets, or any other device connected to an organization's network.
Is an MDM required?
A Mobile Device Manager (MDM) is not a hard requirement for any framework however, it simplifies the requirements for device management within the company. We recommend getting an MDM solution because it simplifies enforcing requirements (i.e. OS patching, anti-malware management, configuration management, etc.) for each employee's device.
What MDM's does Secureframe Integrate with?
Secureframe has integrations with many different MDM providers. Below you will see the MDM's we currently support.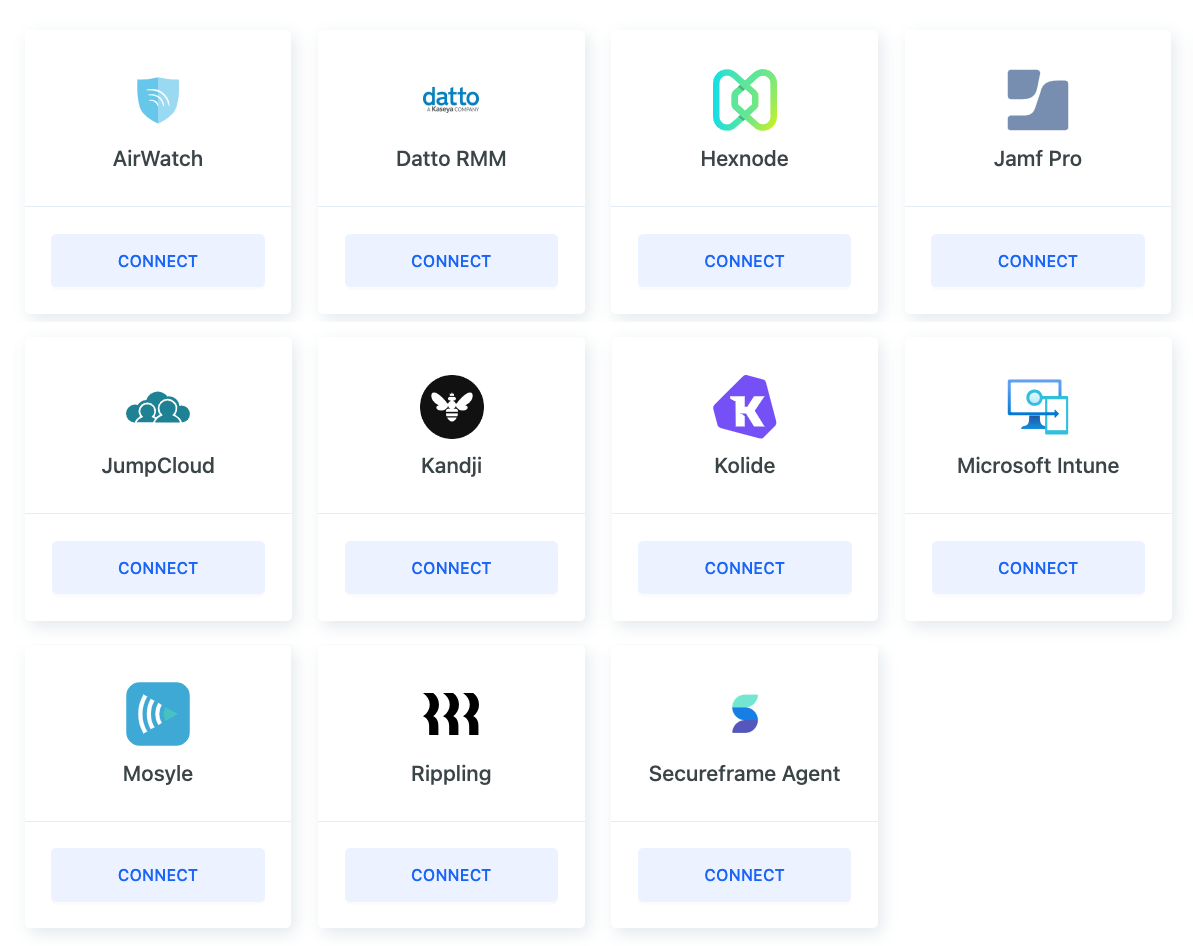 To find out more about some popular MDM tools Secureframe integrates with, please follow the article links below:
(Note: Some articles may require signing in. Please sign in using your Secureframe credentials or social sign-in to access additional content)
Popular MDMs
Not using an MDM?
Secureframe offers the Secureframe Agent, free for our customers to use. The Secureframe Agent is a read-only agent designed to help your organization be secure by reporting on key device settings. To read more on the Secureframe Agent, please follow the link below:
How does the Secureframe Agent work?
Who should install the MDM?
If utilizing an MDM, it should be installed on all company-issued devices (mobile and tablets can be left out of scope).
All employees will need to have an MDM in place.

Contractors that do not have access to the production environment or sensitive customer information (information beyond

customer

name or basic information) are out of scope for the MDM solution.
What are the recommended MDM settings?
Enable remote lock (default for most MDM software)

Enable hard disk encryption (i.e. FileVault)

Require OS updates to be installed

Require automatic software updates

Require anti-virus / anti-malware

Windows Defender

MacOS XProtect (on by default)

Start screensaver on after: 15 minutes

Require password

Require alphanumeric / complex password

Minimum password length: 8 characters

Maximum grace period: immediately

Maximum password age: 6 months

Install 1Password as a custom application if available